---
This site is dedicated to my best friends, my Dad who passed away Dec. 24, 1997 and my Mom who passed away Nov. 17, 2000
Richard L. Baker,July 23,1931-December 24,1997 (66)
Mary J. Baker, May 24,1928-Nov.17, 2000 (72)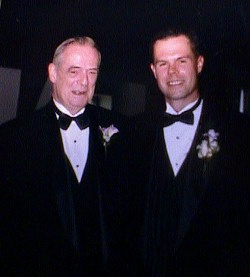 Devoted husband to Mary Jane Baker 43 years. A card that I received after my fathers passing best described the man he was... It Read: Dear Ritchard, I read with a heavy heart today of your fathers passing. I am so very sorry that your family and the world will no longer be blessed with his presence. Your father will be remembered by so may as a man of honor and class. A level of honor and class that is becoming even more rare these days...I feel honored just to have known him....Steve L. Reist.
And to My Mother My last words we spoke ."You will always be my girl" I know"
My Parents worked very hard there whole lives and supported and always rewarded independents and spent there remaining days caring for my Emotionally and Physically challenged sister...
Greatest lesson my folks taught me...somethings are more important than money.....
"What profit a man(women) if you gain the whole world but lose your own family..."